A fraud detection in RevCent can be created automatically, manually or via the API. A fraud detection is specific to a sale within RevCent. Automatic fraud detection, using a third party, gives you the ability to detect fraud before processing payments.
View all fraud detections by clicking Anti-Fraud > Fraud Detections in the sidebar or go to https://revcent.com/user/fraud-detections

View a fraud detections' details by searching for the fraud detection in the top navigation search box, or clicking on the fraud detection ID when viewing all fraud detections.
The fraud detection details page will display all related entities related to the fraud detection, i.e. sale, products sold, shipping, tax, subscriptions, etc.
You can edit an existing fraud detection by clicking the Edit button. Complete the fraud detection fields and click the red Edit Fraud Detection button.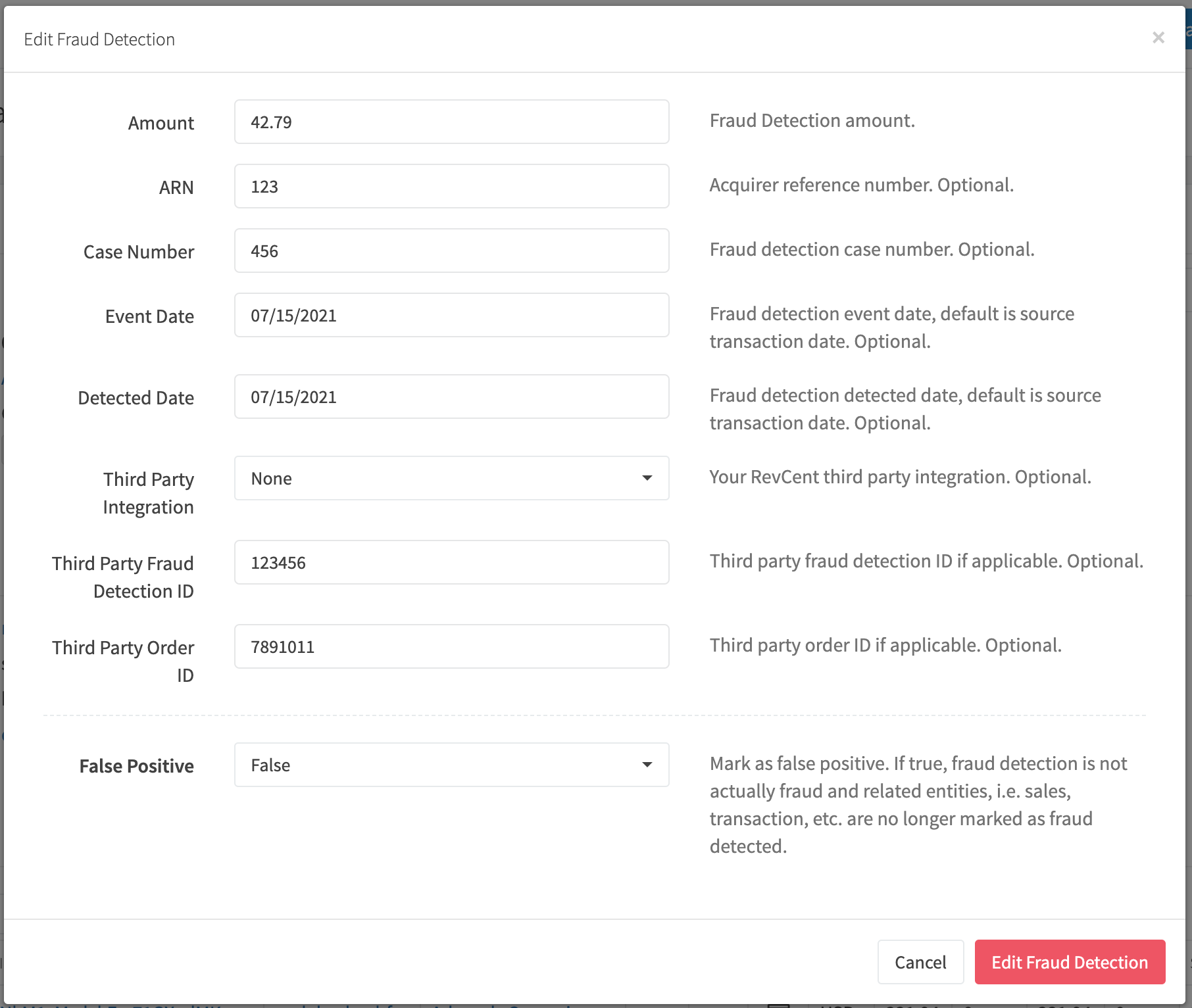 There are two ways to create a fraud detection, either during the sale creation and payment processing, or manually after a sale has been created.
Revcent offers automatic fraud detection using RevCent or third party integration. Depending on the method, RevCent will attach a fraud alert or will create a fraud detection entity within RevCent and attach it to the new sale.
To create a fraud detection you must view the source details for the specific entity that the fraud detection is related. For example, view the sale and click the Fraud Detection button. When creating a fraud detection on a sale, you can also automatically void the sale, refunding any payments and cancelling any trials/subscriptions. You can also flag similar sales in which RevCent will review sales up to 3 days post/prior to fraudulent sale for suspected fraud. The review is automated and uses different techniques to determine similarity.